John Lansing, Jr.
State: New York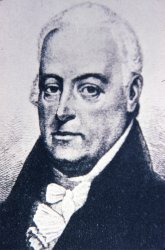 Age at Convention: 33
Date of Birth: January 30, 1754
Date of Death: December 29, 1829
Schooling: Read law with Robert Yates
Occupation: Lawyer, Public Security Interests
Prior Political Experience: New York Lower House Legislature 1780-1784 & Speaker 1786, Confederation Congress 1784-1785, Mayor of Albany 1786-1790
Committee Assignments: None
Convention Contributions: Arrived June 2, departed July 10 and never returned. He explained his reasons for departing early to Governor Clinton; Lansing thought that the convention had exceeded its authority and that the proposed "consolidated government" would be dangerous to the liberties of the people. William Pierce stated that "his legal knowledge I am told is not extensive, nor his education a good one. He is however a Man of good sense, plain in his manners, and sincere in his friendships."
New Government Participation: Attended the New York ratifying convention and opposed the ratification of the Constitution in 1788. He did not serve in the new Federal Government, but was active in State and Local judicial positions.
---
Biography from the National Archives:On January 30, 1754, John Lansing was born in Albany, NY, to Gerrit Jacob and Jannetje Lansing. At age 21 Lansing had completed his study of the law and was admitted to practice. In 1781 he married Cornelia Ray. They had 10 children, 5 of whom died in infancy. Lansing was quite wealthy; he owned a large estate at Lansingburg and had a lucrative law practice.
From 1776 to 1777 Lansing acted as military secretary to Gen. Philip Schuyler. From the military world Lansing turned to the political and served six terms in the New York Assembly–1780-84, 1786, and 1788. During the last two terms he was speaker of the assembly. In the 2-year gap between his first four terms in the assembly and the fifth, Lansing sat in the Confederation Congress. He rounded out his public service by serving as Albany's mayor between 1786 and 1790.
Lansing went to Philadelphia as part of the New York delegation to the Constitutional Convention. As the convention progressed, Lansing became disillusioned because he believed it was exceeding its instructions. Lansing believed the delegates had gathered together simply to amend the Articles of Confederation and was dismayed at the movement to write an entirely new constitution. After 6 weeks, John Lansing and fellow New York delegate Robert Yates left the convention and explained their departure in a joint letter to New York Governor George Clinton. They stated that they opposed any system that would consolidate the United States into one government, and they had understood that the convention would not consider any such consolidation. Furthermore, warned Lansing and Yates, the kind of government recommended by the convention could not "afford that security to equal and permanent liberty which we wished to make an invariable object of our pursuit." In 1788, as a member of the New York ratifying convention, Lansing again vigorously opposed the Constitution.
Under the new federal government Lansing pursued a long judicial career. In 1790 he began an 11-year term on the supreme court of New York; from 1798 until 1801 he served as its chief justice. Between 1801 and 1814 Lansing was chancellor of the state. Retirement from that post did not slow him down; in 1817 he accepted an appointment as a regent of the University of the State of New York.
Lansing's death was the most mysterious of all the delegates to the Constitutional Convention. While on a visit to New York City in 1829, he left his hotel to post some letters. No trace of him was ever found, and it was supposed that he had been murdered.
Related:
* indicates delegates who did not sign the Constitution
Connecticut
William Samuel Johnson –  Roger Sherman –  Oliver Ellsworth (Elsworth)*
Delaware
George Read –  Gunning Bedford, Jr. –  John Dickinson –  Richard Bassett –  Jacob Broom
Georgia
William Few –  Abraham Baldwin –  William Houstoun*  -  William L. Pierce*
Maryland
James McHenry –  Daniel of St. Thomas Jenifer –  Daniel Carroll –  Luther Martin*  -  John F. Mercer*
Massachusetts
Nathaniel Gorham –  Rufus King –  Elbridge Gerry*  -  Caleb Strong*
New Hampshire
John Langdon –  Nicholas Gilman
New Jersey
William Livingston –  David Brearly (Brearley)  -  William Paterson (Patterson)  -  Jonathan Dayton –  William C. Houston*
New York
Alexander Hamilton –  John Lansing, Jr.*  -  Robert Yates*
North Carolina
William Blount –  Richard Dobbs Spaight –  Hugh Williamson –  William R. Davie*  -  Alexander Martin*
Pennsylvania
Benjamin Franklin –  Thomas Mifflin –  Robert Morris –  George Clymer –  Thomas Fitzsimons (FitzSimons; Fitzsimmons)  -  Jared Ingersoll –  James Wilson –  Gouverneur Morris
South Carolina
John Rutledge –  Charles Cotesworth Pinckney –  Charles Pinckney –  Pierce Butler
Rhode Island
Rhode Island did not send delegates to the Convention.
Virginia
John Blair –  James Madison Jr. –  George Washington –  George Mason*  -  James McClurg*  -  Edmund J. Randolph*  -  George Wythe*
Other: