Richard Bassett
State: Delaware (born in Maryland)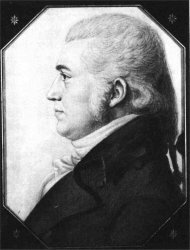 Age at Convention: 42
Date of Birth: May 2, 1745
Date of Death: September 15, 1815
Schooling: Read for Law at Philadelphia
Occupation: Lawyer, Public Security Interests, Lending and Investments, Farmer
Prior Political Experience: Lower House of Delaware State Legislature 1785, Upper House of Delaware State Legislature 1776 & 1777-1780 & 1783-1785, Delaware State Constitution Convention 1776, Delegate to Annapolis Convention 1786
Committee Assignments: None
Convention Contributions: Arrived May 25, except for one week absence in early August, was present through the signing of the Constitution. No record of him ever speaking at the Convention. William Pierce stated that "he is a religious enthusiast, lately turned Methodist, and serves his Country because it is the will of the people that he should do so."
New Government Participation: Attended Delaware ratification convention, supported ratification of the Constitution. Served as Senator from Delaware (1789 – 1793), "Midnight" Judge appointee by President Adams.
---
Biography from the National Archives:Bassett (Basset) was born in Cecil County, MD., in April 1745. After his tavern-keeper father deserted his mother, he was reared by a relative, Peter Lawson, from whom he later inherited Bohemia Manor (MD.) estate. He read for the law at Philadelphia and in 1770 received a license to practice in Dover, DE. He prospered as a lawyer and planter, and eventually came to own not only Bohemia Manor, but homes in Dover and Wilmington as well.
During the Revolution, Bassett captained a troop of Dover cavalry militia and served on the Delaware council of safety. Subsequently, he participated in Delaware's constitutional convention and sat in both the upper and lower houses of the legislature. In 1786 he represented his state in the Annapolis Convention.
At the U.S. Constitutional Convention the next year, Bassett attended diligently but made no speeches, served on no committees, and cast no critical votes. Like several other delegates of estimable reputation and talent, he allowed others to make the major steps.
Bassett subsequently went on to a bright career in the state and federal governments. In the Delaware ratifying convention, he joined in the 30-0 vote for the Constitution. Subsequently, in the years 1789-93, he served in the U.S. Senate. In that capacity, he voted in favor of the power of the President to remove governmental officers and against Hamilton's plan for the federal assumption of state debts.
From 1793 until 1799 Bassett held the chief justiceship of the court of common pleas. He espoused the Federalist cause in the 1790s, and served as a Presidential elector on behalf of John Adams in 1797. Two years later, Bassett was elected Governor of Delaware and continued in that post until 1801. That year, he became one of President Adams' "midnight" appointments as a judge of the U.S. Circuit Court. Subsequently, the Jeffersonian Republicans abolished his judgeship, and he spent the rest of his life in retirement.
Twice married, to Ann Ennals and a woman named Bruff, Bassett fathered several children. He was a devout Methodist, held religious meetings at Bohemia Manor, and supported the church financially. He died in 1815 at the age of 70 and is interred at the Wilmington and Brandywine Cemetery, Wilmington, DE.
Related:
* indicates delegates who did not sign the Constitution
Connecticut
William Samuel Johnson –  Roger Sherman –  Oliver Ellsworth (Elsworth)*
Delaware
George Read –  Gunning Bedford, Jr. –  John Dickinson –  Richard Bassett –  Jacob Broom
Georgia
William Few –  Abraham Baldwin –  William Houstoun*  -  William L. Pierce*
Maryland
James McHenry –  Daniel of St. Thomas Jenifer –  Daniel Carroll –  Luther Martin*  -  John F. Mercer*
Massachusetts
Nathaniel Gorham –  Rufus King –  Elbridge Gerry*  -  Caleb Strong*
New Hampshire
John Langdon –  Nicholas Gilman
New Jersey
William Livingston –  David Brearly (Brearley)  -  William Paterson (Patterson)  -  Jonathan Dayton –  William C. Houston*
New York
Alexander Hamilton –  John Lansing, Jr.*  -  Robert Yates*
North Carolina
William Blount –  Richard Dobbs Spaight –  Hugh Williamson –  William R. Davie*  -  Alexander Martin*
Pennsylvania
Benjamin Franklin –  Thomas Mifflin –  Robert Morris –  George Clymer –  Thomas Fitzsimons (FitzSimons; Fitzsimmons)  -  Jared Ingersoll –  James Wilson –  Gouverneur Morris
South Carolina
John Rutledge –  Charles Cotesworth Pinckney –  Charles Pinckney –  Pierce Butler
Rhode Island
Rhode Island did not send delegates to the Convention.
Virginia
John Blair –  James Madison Jr. –  George Washington –  George Mason*  -  James McClurg*  -  Edmund J. Randolph*  -  George Wythe*
Other: